Blogger Is Being Such a Dick
Anyone else been having problems for the last two day? Crikey. It's enough to make me pay actual money for a working blog host.
I just realized that my last four posts have been food related. Ha! Let's move on to celebrities, then I'll bitch some, reality TV, then we'll revisit food.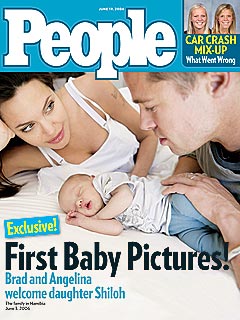 Good Lord Angelina. Someone paid several million dollars for these pictures, which will be seen by several billion people. We're talking covers of magazines, newspapers, Entertainment Tonight, etc. The least you could have done was to put on a shirt that didn't show off your nursing bra. I've never liked you, but now I've just put you in the same class as Britney Spears. Last class.